newsband
May 29, 2019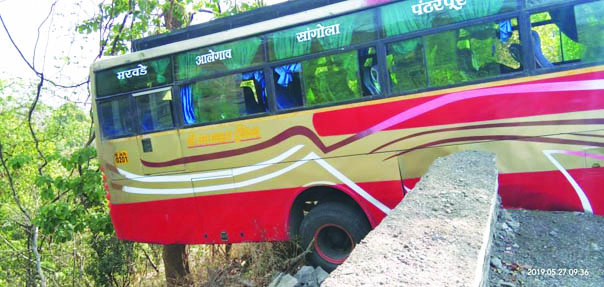 ---
A Thane based private company hired luxury, bus with its staff on board heading towards Lonavala, could not ply on the ghat section of Old Mumbai Pune highway in Khopoli on Monday morning at around 9 am. The bus plied reverse in the sharp turning area. Around 30 person on board had a narrow escape when the bus first broke the safety wall and fell on a highway side pit but got stuck up in a tree. A woman sustained injury on her back, while a male had minor injury on her leg.
The Khopoli police inspector KS Hegaje said, "Thirty persons of a Thane based company were heading towards Pune on a luxury bus. The bus plied in reverse direction after failing to move on the ghat section. A woman was injured in the mishap but no-one has complained to us."
The passengers got panicky when the bus went reverse in the Bhor ghat section. The bus driver applied brake but it did not help.
Rescue activist Mitesh Shah said, "The Thane based private company had hired the luxury bus. Its staff on board were heading to Lonavala through the steep ghat section of Old Mumbai Pune highway in Khopoli on Monday morning at around 9am. The bus plied reverse in the sharp turning area."
Mitesh Shah added, "The bus first broke the safety wall and railing after plying reverse by 12 ft. Then the bus fell 8ft into a highway side pit. However, the bus stopped from falling down into a valley by a tree besides a rock. A woman sustained injury on her backbone while a male had minor injury on his leg. The woman was taken to a nearby hospital."
---