Abhitash Singh
March 21, 2019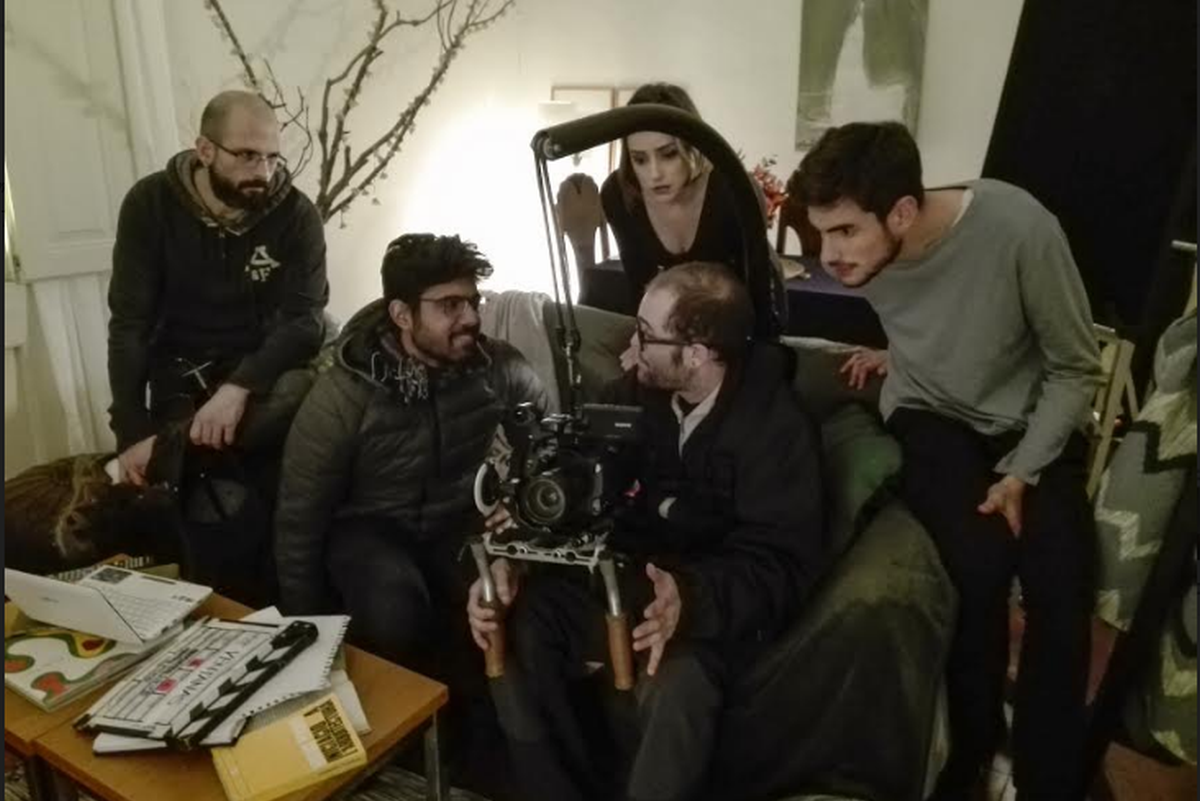 ---
Born in London, Shubhra has all the sensitivity and spirituality of the east and the fine art of understanding, appreciating Aesthetics and absorbing and delivering Art Practices of the west.
He as an international filmmaker has been making films for the past five years. Even after doing a Masters in Film Direction from ESCAC, University of Barcelona, he considers his father Kumar Vandit as his first guru because he played an important role in guiding him through his journey as a filmmaker. He believes in working in all genres and formats. In a very short span of time he has met with significant success with social documentaries and fictional drama in Europe. Based on his profile last year Cannes Film Festival officials invited him for the festival. In a chit-a-chat with Newsband, filmmaker Shubhra Vandit opens out about his journey.
Excerpts:
Tell us how your filmmaking journey initiated, were you interested in filmmaking during your school days or there were some other goals?
It's a very interesting journey, my father being a filmmaker himself so as a kid we use to often read those VHS cassettes and watch that on TV and really use to enjoy it after long day of shoot. I watch my father shoot and for me it wasn't about filmmaking, but a bunch of people working together and lot of energy at place which I didn't use to find at other work places. I find it very interesting and that was my childhood. But then jump to 2011-12, that was the first time when I went to the Mumbai Film Festival and I watched two movies that had a very profound effect on me. One movie was "Once upon a time in America" by Sergio Leone and other one was "Sunrise a song of two humans" and the movie was from 1927. Martin Scorsese always talk about that as a filmmaker don't go to movie to learn something from it, but go to film to see that its speaks to you. I have learned about this quote much later in my life, but this was what exactly what happened with me when I was watching those films. It resonates with me I understands that, whatever is happening on the screen was so powerful so that was the beginning of my filmy journey. And then it so happened that I worked with my father after my graduation and that was interesting. I made some documentaries and social message films and then I decided to do master in film direction. I went to Spain to do masters. The thing about Spain master's degree was that it was very intensive course and it was taught in Spanish language and I did not know a word in Spanish. The reason I did that was because it is very easy to be in your comfort zone in your own city where you have your own home and friends and try and learn something. But the movement you step out of your comfort zone where you enter in a land where you doesn't speak your language and you don't know anyone. I think at this movement the cosmic play come into picture where things happen to you if you take an effort. If you keep sitting at home nothing can happen. It is a brilliant way to propel yourself to take action and to achieve your goals. They always says that always do the things when you are not prepared to do that because you will have to not only do your things but also have to fight other circumstances which will keep you on the track. The latest Jurassic Park movie which you would have seen was been directed by the alumni of my school which is a big thing for me.
Let us know about the movie which has been made by you which is appreciated by the masses?
The thing is that my effort in filmmaking is that because films are such a powerful medium; I feel that it should be used for the social betterment. We should at least try and convey issues that are not bring to the light by other mediums and also the issues which are not addressed by the people. One of the films that I made in Spain was called, 'L 'estoc' which is in French and this is very interesting thing, and these are the group of intellectually challenged designer who take waste products recycle them and create amazing furniture. Now the thing is that by seeing their intellect speed disable they are autistic. So they don't actually work for any NGO, they own their own company. In India there are so many NGO's who employs disabled people. But here they are not employed by any NGO's but they are the proprietor of their own company. Not only they are artist but also a businessman. Such a brilliant idea it was, so when we made this film the government of Barcelona picked up this film and they showed it in different institutions as a means of motivation and it was an achievement and great moment for me. You humble by your work and that was the idea of the film so that it can reach the masses. Their efforts are brought to life and that was the main idea. It won at many film festivals. It has won the Best Film Award – at the 'Paris Play Film Festival', and was an Official Selection; at the 'Barcelona Human Rights Film Festival' it was also at the Niece Filmmakers Festival and many other festivals. And the idea of the film was that their voice should reach to the people and that was the best thing which I can do through my film.
What's your genre and forte?
Apart from social films, I have also made drama and romantic films. But my idea is always to have, the genre is not so much of the attention the idea can be anything and one can make it into comedy, drama and horror film. Look at Charlie Chaplin all the different shoes were so so grave, there was somebody who is living on the street which is not so funny things but he made it a film which is comedy film which will make you laugh but at the same time it will make you think that what about the guy who is living that life. I have made documentaries and also working on drama films. But I would also like to explore drama films. As a kid I use to practice martial arts. Bruce Lee philosophy has a very powerful impact on me. So I would like to pursue something in action.
Being a director which production houses would you like to work in India and even on foreign land?
I have been a director-writer actually and most of the films are written by me. And I always use to look after working with different writers and directors and producers. The kind of film which I have made in India is doing quite well. There are many digital platforms and also web series is doing a great job. I can say that web series has opened a whole new avenue for the story-tellers and the filmmakers. So definitely the kind of work Anurag Kashyap is doing and by Excel Entertainment of Farhan Akhtar and even Zoya Akhtar is doing a very marvelous job. That being said, apart from that there are lots of production houses which I know.
 Will you be approaching any production houses with your stories because nowadays production houses are willing to invest in the films if the content is good, comment?
The kind of a trend which I have followed till now is that I love to travel to explore new culture and that was the reason I did my masters in filmmaking in Spain. I feel I want to continue doing that, going to new destinations, new lands with new languages and make films over there and adopt their culture and portray that in my films. As vast this world is the human emotions are limited. You feel happy when you achieve something, you feel happy when somebody has done something for you, you feel sad when somebody breaks up this is regardless of the culture. So these emotions are absolute, but the journey of the people are very different and that something I am very passionate about.
Let us know about your favorite directors in India and Internationally?
In India I remember watching Satyajit Ray's a port orology and that has such a profound impact on me because the way he incorporated and a realism in his character and I felt like how you bring those things to portray on the screen and that was something which I was really touched with. And internationally there are so many Martin Scorsese is my Guru and I am looking forward to collaborating with him at some point of my life.  There are of course some as old school if you talk about F W Monroe from Germany and so many Italian directors. I remember watching "Rome Open City" and "Bicycle Thieves" and they have such a profound impact because they are old films.
Which Indian actors would you like to work with?
I loved the work of Ranbir Kapoor in the movie Sanju because the way he enacted the character was really great and it reminded me of Will Smith who enacted the character of Mohammed Ali. You will feel that you are really watching Sanjay Dutt and Mohammad Ali. I can say hats off to them. I also liked the acting of Alia Bhatt in Highway and I said wow that is superb acting.
What your views on Philosophy of Life and People?
I am here for emotions and experiences. Follow's Bruce Lee's philosophy – Absorb what is useful, discard what is not, add what is essentially your own. So the idea is not to be stuck with any belief system, continually re-evaluate yourself. 'Better an 'Oops' than a 'What if'…Always fascinated with what drives people, how making one choice over other affects the quality of their lives.
Talk about the achievements of all your films?
My film, 'L'estoc'  'Street Talk' was screened at the 'Bibliocurts de Barcelona' and has a mention by the Government website of Barcelona and many other websites. Social media mentions like tweets by 'CatalanVoices', an offshoot of the Government body, 'Public Diplomacy Council of Catalunya, Diplocat', have appreciated my work as a "unique perspective". In Mumbai too, my film, 'Street Talk' was selected by MAMI, Mumbai Film Festival and was screened, receiving critical appreciation. Street Talk is one more such a film that speaks of sad and happy philosophical lessons of life learnt by the chief character. Las Ventanas is actually a window to the mind and heart of the protagonists who were deep lovers and becomes a window to your soul after you take in their experiences which had an official screening at the Cinema Club Competition, Barcelona. Paola takes you on an intimate journey. Having struggled with body-image herself, Paola De Grenet captures mesmerizing photos of her brave subjects, who also deal with self-image and body-conflict.
What moved you to make the film on Differently-abled and other offbeat subjects like Street talk and Paola?
Since childhood, I was reserved by nature. With Hip-hop and then with films, I found my belongingness. The subjects of these films had struggled with similar issues in their lives and they found their belongingness in their professions. I related with their struggle. Hence I wanted to spread their stories.
Your film 'Windows' is again different, especially the editing is like a maze walk, as you oscillate between past and present, thoughts and reality – how did you develop this style?
I always find myself delving in introspection and retrospection. I feel that your future depends on what choices you make. Every choice you make leads to further choices and these choices define the quality of your life. KRS ONE, a Hip Hopper and philosopher – spoke about a visualization method – what advise the 5 – 10 years elder you would give the now, you. And then make your choice accordingly.
Let us know about your future projects and also the social message of your films?
I am currently working on a multi-national film about an Indian orphan girl – a poignant story of the unfolding of her life. While in Mumbai, I'm also making Public Service Films. One of my recent productions, 'The Lonely Chair' about old age abandonment has just been completed and is due to do its festival rounds.The social message of my films is subtle, deep and universally applicable. Having met with considerably success with the government as well as common public in Europe, I am keen that the profound social message also reaches the people in various parts of India. Apart from social importance, my films are culturally relevant, now more than ever.
---