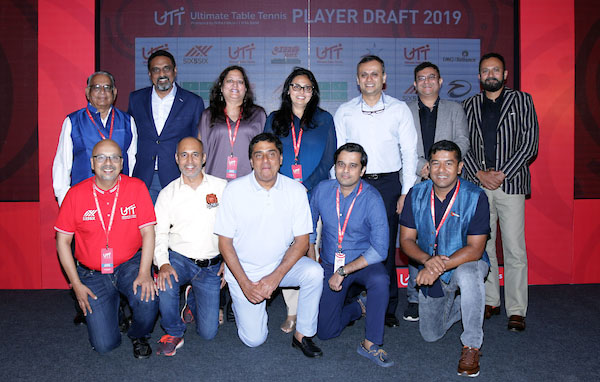 UTT organizing committee and franchise team owners pose with TTFI President Dhanraj Choudhary (second row – extreme left) post Players Draft
Mumbai: Three new teams U Mumba, Puneri Paltan and Chennai Lions will join Goa Challengers, RP-SG Mavericks Kolkata and defending champions Dabang Delhi in the third edition of Ultimate Table Tennis League (UTT) this year.
The tournament which was launched in 2017 with the vision of winning an Olympic medal for India in Table Tennis by 2024  has not only provided platform for Indian players, an opportunity to compete against some of the best players in the world and learning from some world-class coaches. In addition it has played a key role in inspiring the youth and drive the development at grassroots level. The past two editions India's first ever professional Table Tennis league held in coordination with TTFI has been well received by the sporting fraternity both nationally as well as internationally. In addition it has played a key role in inspiring the youth and drive the development at grassroots level.
To be held in Delhi from July 25 to August 11, 2019, the Rs. 2 Crore prize money tourney this time around received a huge boost with number of top corporates joining the fray. In order to cache on the best of International and National players from across 12 countries the representatives and team owners of the likes of Shrinivas Dempo (Dempo Group), Suresh Kotak (InsureKot Sports), Ronnie Screwvala (U Sports), Sameer Bharat Ram, Radha Kapoor Khanna (DO IT Sports), Sanjiv Goenka (RP-SG Group) also took part in the UTT Players Draft, held over two rounds at NSCI, Mumbai on Thursday 13 June, 2019.
India's top players Achanta Sharath Kamal and Manika Batra were the hot choices and was bagged by Chennai Lions and RP-SG Mavericks Kolkata on Thursday. The country's highest-ranked player G. Sathiyan (World No. 24) was retained by Dabang Delhi T.T.C., underlining the preeminent position that India's players command in this prestigious league. Goa Challengers in their new avatar successfully bid for World No. 8,  Cheng I-Ching of Chinese Taipei, the highest-ranked player among 40 in fray  India's players who made the cut included Harmeet Desai (Puneri), Manav Thakkar (U Mumba) and Archana Kamath (Goa Challengers).
"It is great to see Indian players being preferred even when the teams had the option of going for foreign stars. This shows that our stars are steadily rising in the world pecking order as their improved rankings confirm," said Vita Dani, co-promoter of the UTT on the occasion
"With 11 Olympians and 25 national champions from 12 different countries in the prestigious league, this becomes one of the most exciting line-up of talent in Table Tennis," shared Niraj Bajaj, co-promoter of UTT on the occasion.
As per the format of the tourney each franchise will be mix overseas and Indian players and will have one player each in six categories, including Foreign Male, Foreign Female, Indian Male Senior, Indian Female Senior, Indian Male Youth and Indian Female Youth. Each tie will have five matches this time around
Franchise Teams
Chennai Lions: Sharath Kamal (India), Petrissa Solja (Germany), Tiago Apolonia (Portugal), Madhurika Patkar (India), Yashini Sivasankar (India), Anirban Ghosh (India)
Dabang Delhi T.T.C.: Sathiyan G. (India), Bernadette Szocs (Romania), Jon Persson (Sweden), Parth Virmani (India), Naina (India), Krittwika Sinha Roy (India)
Goa Challengers: Cheng I-Ching (Chinese Taipei), Archana Kamath (India), Amalraj Anthony (India), Siddhesh Pande (India), Shruti Amrute (India), Alvaro Robles (Spain).
Puneri Paltan Table Tennis: Chuang Chih-Yuan (Chinese Taipei), Harmeet Desai (India), Ayhika Mukherjee (India), Selena Selvakumar (India), Ronit Bhanja (India), Sabine Winter (Germany)
RP-SG Mavericks Kolkata: Manika Batra (India), Benedikt Duda (Germany), Matilda Ekholm (Sweden), Manush Shah (India), Prapti Sen (India), Sanil Shetty (India)
U Mumba TT: Doo Hoi Kem (Hong Kong), Manav Thakkar (India), Sutirtha Mukherjee (India), Kirill Gerassimenko (Kazakhstan), Jeet Chandra (India), Moumita Dutta (India)