Abhitash Singh
June 15, 2019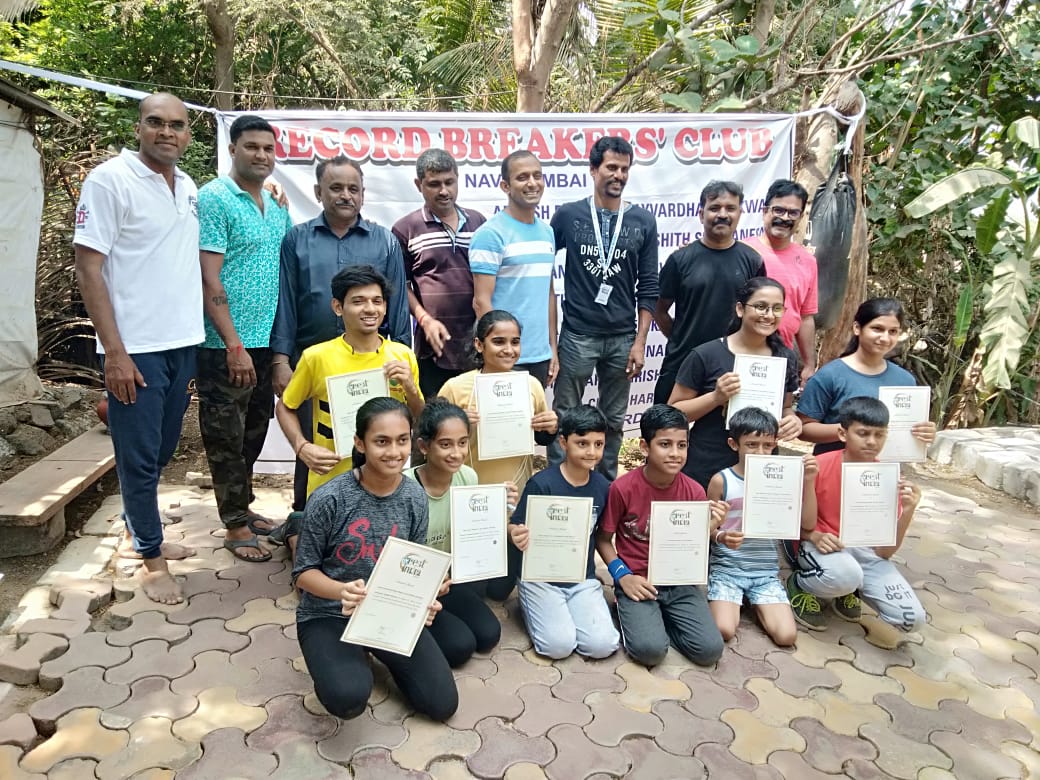 ---
One succeeded in even creating a world record
The satellite city witnessed a record breaking event on Saturday, 25th May, 2019 at DJ Farmhouse (Dhyan Kendra) in Airoli where at least 10 students under the guidance of Bibhuti Nayak (Bruce Lee of Navi Mumbai) set a national record and one of them also created a world record.
The students who were participants in the record breaking events were cheered by their parents and the teammates. The Best of India Records and Limca Book of records officials were present to monitor the records of the students.
The students who succeeded in the various categories were Aditi Sanap achieved a target of 246 most double-leg skips in one minute (female) and created a national records by breaking the previous 241 counts which was needed to qualify, Janhavi Sanap attempted most deep squats in one minute (female) and she broke the early count of 57 and achieved 73 as a final target, Vinit Patil participated in most jumping jacks in one minute and broke the earlier counts of 109 and achieved and set a new final target of 112 counts, Adarsh Pal achieved a final target of 166 breaking the previous counts of minimum 120 plus in most astride jumps in one minute, Shravani Yogesh Bhuran set the new national record by achieving a target of 90 by breaking earlier 72 counts but he remain just 22 counts behind to record the world record which is 111 counts. Dipti Pant participated in most single arm rotations in one minute (female) where the minimum target to qualify was 90 as per universal standards and BIR Rules and Guidelines but she succeeded in achieving 144 target counts, Kabir Pant achieved a 183 target breaking the earlier count of 143 which was needed for qualifying in most single hand rotations in one minute, Bhumika Pant achieved a final target of 110 in most jumping jacks in one minute which was open because no previous records were available, Kartik S Choudhary achieved 162 numbers in most alternate squat thrusts in one minute breaking the earlier national record of 72 counts but missed with few numbers in breaking the world record which is 201 numbers and finally Harshith Sivaganesan created a world record by doing 93 numbers of most side bends in one minute because the earlier record was of 91 numbers.
It was very emotional scene at the event because few students after achieving the target were seen crying and that was the happiness tears which passed through their eyes. Few students also touch the feet of their mentor Bibhuti Nayak who has been training them since last many days to make them achieve a feat.
| | |
| --- | --- |
| | |
---