Dinesh Kamath
June 14, 2019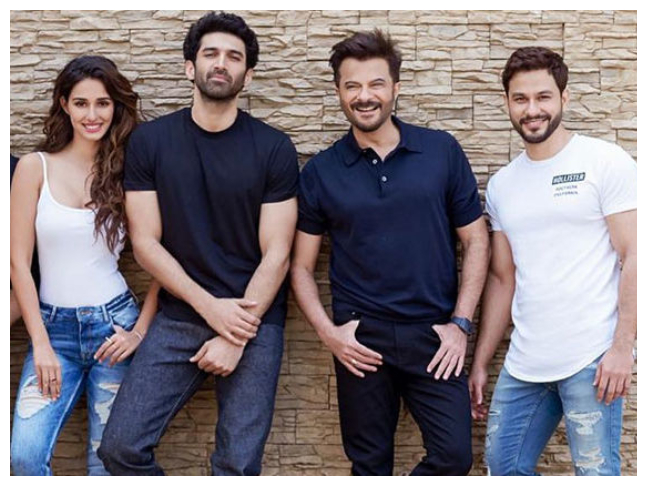 ---
Three years after her debut, Disha Patani has grown accustomed to the spotlight of social media, gossip and fitness goals feeds. This year, she appeared in Bharat, her biggest film yet.
From Bareilly to Bombay, it had been an interesting journey for Disha Patani. When she moved to Mumbai, she used to stay in a modest apartment with foreign models who were 16 or 17 years old. They couldn't speak English, but lived here on their own. That inspired her. She is from Uttarakhand and coming here was a big decision. Beneath the glamorous exterior, she is still a pahadi girl.
Disha can do a back handspring, butterfly kick, slap spin tornado. She could be preparing for an action role. Being fit and healthy is her life's mantra. Acrobatics helps her stick to that and trying new things just adds a twist.
According to Disha, martial arts or any other activity shouldn't be confined to gender and that it is empowering when girls learn martial arts as it is a part of self-defence training. She considers martial art a necessity since it makes a woman self-sufficient.
Tiger Shroff is Disha's inspiration when it comes to fitness. In fact, Tiger is an inspiration not just for Disha, but for the whole country.
By the way, Jasmine (cat), Bella and Goku (dogs) are Disha's family in Mumbai.
Disha Patani scored a hattrick with consecutive 100 crore club blockbusters with her latest outing 'Bharat'. She received immense appreciation for her movie 'Bharat' and for the promising portrayal alongside Salman Khan. The audience is going gaga over the whistleblowing performance of Disha Patani.
'Bharat' is Disha's third film in a row which is a super hit, minting 42.3 cr on the first day itself which set a record along with charting 100 crores collection at the box office. The actress' debut film 'M.S. Dhoni: The Untold Story' and her second film 'Baaghi 2' smashed the records at the box-office and hit the numbers with 100 crores collection.
When it comes to dancing, the actress is an absolute stunner with graceful and effortless moves. Disha has been treating the fans with insights to her dance rehearsals and now with 'Slow Motion' song, it is a treat for the audience where the actress is seen in two looks- trapeze artist and the yellow saree look.
After the back to back success of 'M.S. Dhoni -An Untold Story' and 'Baaghi 2', which raked more than 100 crores at the box office, Disha Patani's film Bharat has hit the screens across the country. The actress will next be seen alongside Aditya Roy Kapoor in Malang.
Disha Patani calls herself potato while preparing for Malang. Disha Patani took to Instagram to share pictures from the training session for Malang. The actress jokes about looking like a potato after three cheat meals.
The actress is prepping for her next film Malang with Aditya Roy Kapur. Apart from Disha Patani and Aditya Roy Kapur, the film also stars Kunal Kemmu and Anil Kapoor. For the Mohit Suri film, Aditya has to undergo a major body transformation. He is having a pretty big body transformation that he is supposed to undergo in the next month or two. He has just about started his work on that. He has to put on some muscles. He has to gain somewhere around 10-11 kilos for the next schedule. Earlier, Aditya had built muscles for Abhishek Kapoor's film Fitoor (2016).
While Aditya had earlier collaborated with Mohit Suri for Aashiqui 2 (2013), it is Disha's first film with the director. Along with prepping for Malang, Disha Patani is busy promoting Bharat. The actress is playing the role of a trapeze artist in the Salman Khan film. Her latest track from the film Slow Motion Main, wherein she is seen matching her steps with the Bhaijaan. In a sultry yellow sari, Disha is looking her sexy best in the song.
Disha Patani is one of the fittest actresses in Bollywood and anyone who follows the star on social knows that she is truly dedicated to her fitness. She takes her workout routine seriously. She looks drop-dead gorgeous even during the workout.
The shooting for Malang began in Goa earlier this year. It seems like an action film. While prepping for an upcoming sequence, Aditya Roy Kapur and Disha Patani were seen prepping in a swimming pool with a bunch of instructors around them. Malang is set for Valentine's Day, 14th February 2020 release. It is produced by T-Series' Bhushan Kumar, Krishan Kumar, Luv Films' Luv Ranjan, Ankur Garg and Northern Lights Entertainment's Jay Shewakramani.
Thus Disha Patani seems to be in cloud nine with back to back movies in her kitty. After wrapping Salman Khan-starrer Bharat, she had to gear up for her next big release Malang along with Aditya Roy Kapur.
On the professional front, the 26-year-old actress—who made her Bollywood debut in 2016 opposite Sushant Singh inMS Dhoni: The Untold Story—was next seen alongside Salman Khan and Katrina Kaif in Ali Abbas Zafar'sBharat. On the other hand, she is also playing an important role in Malang which stars Kunal Kemmu and Anil Kapoor in pivotal roles. Touted as a romantic horror film, it will be directed by Mohit Suri.
Disha Patani can't wait to take a break from 'Malang'. Birthday celebrations for Disha Patani are quiet this time because she has been busy filming for Malang. For the past four-odd months, the actress has been shooting nights. Disha, who has turned 26, tells us that the schedule has been pretty hard for her. She packs up only at 6 am every day and she is an early sleeper and riser, so she cannot sleep in the mornings after she is home. Hence, she cannot wait to go on a vacation and have some downtime. As soon as her film is over, she will take a short break and just enjoy. She will only eat, sleep and repeat.
Vatsal Sheth too joined Aditya Roy Kapur and Disha Patani starrer Malang. Actor Vatsal Sheth, who has acted in films like Tarzan, Nanhe Jaisalmer, Heroes and Hostel, has joined the ensemble cast of Malang. Vatsal Sheth is thrilled about the same. He is very excited to be the part of this film. It's going to be an exciting ride.
Disha cannot get over her first romantic number with Salman Khan in Slow Motion song from the movie Bharat. Busy shooting with her co-star Aditya Roy Kapur, Disha's night shifts are not appreciated by her dog 'Bella' and the Internet has proof. In one of her recently updated Instagram stories, Disha put out the video of a glum-looking Bella with drooping ears and sad eyes and revealed how sad it was on watching her go every night for the shoot.
Bowled by the immense love that is pouring in continuously for Slow Motion, Disha shared a cartoon drawing of her and Salman shaking a leg to the signature step of the song.
Bollywood hot actor and the brand ambassador of Calvin Klein, Disha Patani, a few days earlier made turn with her hot picture. Oozing Oomph in black top and Calvin Klein briefs, she set the internet on fire with her sexy pose. She can be seen flaunting her curvaceous body in her latest Instagram picture. She completed her look with pink lipstick, kohl in eyes and subtle makeup. She kept her hair wavy and straight. Her sultry facial expressions will take your breath away.
Recently, she has shared a video where her fans can be seen dancing crazily at the Mumbai theatre on her Bharat song 'Slow Motion'. People can be seen singing the song in one loud rhythm while also trying to follow the actor's hook step in the video.
Meanwhile, after opening to packed houses across the country on June 5, Bharat minted Rs 42.30 crore on its day 1. The film, that also features Katrina Kaif and Sunil Grover, emerged as the biggest opening day grosser for Salman Khan and the top Hindi film of 2019 in terms of the first-day collection.
The filming of Malang began on 16 March 2019. The principal photography began on 22 March in Goa. The Mauritius schedule was shot in the first week of May. So let us wait and see how the movie will turn out to be and whether this venture in which Disha is staring will make 100 crore.
---